Akudama Drive (アクダマドライブ) is an anime series produced by Studio Pierrot in collaboration with Too Kyo Games.

The anime features an original story by Danganronpa creator Kazutaka Kodaka, and was directed by Tomohiro Taguchi. Original character designs were created by Danganronpa's character designer Rui Komatzusaki. The anime, meant to debut on July 7, 2020, was put off due to the worldwide COVID-19 Pandemic and instead debuted on October 8, 2020. For this reason, the first chapter of its manga adaptation, Akudama Drive Comicalize, was released ahead of the anime.

"Long ago, war broke out between the regions of Kanto and Kansai, splitting the country in two. Kansai became a vassal state of Kanto and developed characteristic advancements. However, with the decline of the government and the police force, crime ran rampant. Those criminals are called Akudama."

---
Want to start editing right now?
Visit our Community Page!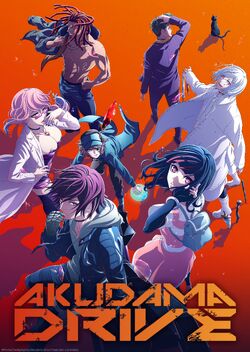 ---





Looking to become an affiliate? Please contact one of our admins!