Jurassic World: Dominion Dominates Fandom Wikis - The Loop
Play Sound
Akudama Drive (アクダマドライブ, Akudama Doraibu) is an original anime series produced by Danganronpa series creator Kazutaka Kodaka with his recent studio, Too Kyo Games. Animated by Studio Pierrot, a 12-episode season aired from October 8, 2020 to December 24, 2020.
Funimation acquired the North American license for the series' simulcast as well as an English dub.
Synopsis
[
]
"Long ago, war broke out between the regions of Kanto and Kansai, splitting the country in two. Kansai became a vassal state of Kanto and developed characteristic advancements. However, with the decline of the government and the police force, crime ran rampant. Those criminals are called Akudama."
Episodes
[
]
Cast
[
]
Japanese
[
]
English
[
]
Staff
[
]
Studio: Studio Pierrot
Director: Tomohiro Taguchi
Assistant Director: Yoshifumi Sasahara
Series Composition: Norimitsu Kaihō
Music: Shigekazu Aida
Original Character Design: Rui Komatsuzaki
Character Design: Cindy H. Yamauchi
Art Director: Yoshio Tanioka
Mechanical design:

Haruo Miyagawa
Shinobu Tsuneki
Sho Yamamoto

Sound Director: Yukio Nagasaki
Cgi Director: Shuho Fujitani
Director of Photography: Kazuhiro Yamada
Color design: Saori Goda
Editing: Akinori Mishima
Original Scenario: Kazutaka Kodaka
Music
[
]
Anime
[
]
Promotional
[
]
Development
[
]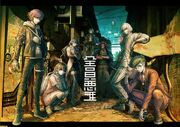 Following the creation of Kazutaka Kodaka's new studio Too Kyo Games, Akudama Drive was first announced in September 2018 under the name "Project #2" and subtitled "everyone is a villain", accompanied by Original Character Designer Rui Komatsuzaki's initial character artwork.
Meant to start airing on July 7, 2020, Akudama Drive was put off due to the COVID-19 worldwide pandemic, to finally release on October 8. For this reason, its manga adaptation's first chapter wound up releasing ahead of the anime, on July 6.
From October 8, 2020 to December 24, 2020, new episodes aired on Thursdays.
On December 25, 2020, a few hours after the last episode was released, it was announced that the last Blu-Ray & DVD volume to come out on May 28, 2021 would include a "Director's Cut" with 5 supplementary minutes of content.[1]
On August 17th, 2021, Funimation and voice over production company Kocha Sound announced the upcoming release of Akudama Drive on Blu-Ray & DVD, already available for pre-order to release on November 30th.[2] Along with it was announced a limited edition containing a 60-page Art Book, 8 Art cards and acrylic standees of Shark and Bunny. Formerly announced Director's Cut, out in Japan since May 28, is included in both the limited and regular edition with english subtitles and dubbing.[3]
Reception
[
]
Akudama Drive was critically acclaimed from its premiere on October 8, 2020, attracting multiple positive reactions from fans and reviewers alike. Kazutaka Kodaka fans found in Akudama Drive's first episode SE7EN similarities to his hit series Danganronpa, which they welcomed.
Reviewers brought up a major change in tone, largely due to a change in protagonist Swindler's personality, starting in its eight episode, Black Rain. This change, along with her new design, were found impressive and praised by critics.[4][5]
The series' finale, Akudama Drive, was similarly acclaimed for its "beautiful storyboarding", the conclusion given to the Swindler and her ally the Courier and its commentary on the police's handling of criminals, though the latter was noted to lack in subtlety[5][6] compared to the deeper themes brought up by Syfy.com within the Swindler's last moments[7]. Syfy.com found Akudama Drive to be a welcome renewal of the Cyberpunk genre, which was also brought up by Comic Book Resources, who similarly to the latter believed that the animation was the main reason for Akudama Drive's popularity.[8]
Syfy.com found the violence to be too impactful for sensitive viewers.[7] Similarly, it had been commented by Anime Feminist that the reference to rape in episode 8 Black Rain was "an upsetting scene", and they included "so much violence" as one of their content warnings.[9] This was also mentioned by magazine Otaku USA which praised its animation and brought up a "substantial body count", recommending owning Akudama Drive on home video to see "all of the beheadings and head/eye trauma".[10] Anime Feminist also brought up the arguable depiction of the Brawler, and his death being the first, as "concerning", and included "racial stereotyping; death of marginalized characters" as some of their content warnings.[9]
In the 2021 Anime Trending "Anime of the Year Awards", the series won the categories of "Best Anime", "Best Original Screenplay", as well as "Best Sci-Fi and Best Mystery".[11]
Despite its positive reception, Akudama Drive was a commercial failure in Japan due to poor sales of its DVDs and Blu-rays, which were not released in the West, with their first volume accumulating little more than 500 copies sold.[12]
Gallery
[
]
Trivia
[
]
References
[
]
[

]